The Fishermen's Association Bermuda has released a video to further respond to the Government, stating that the Steering Committee mostly consists of Government departments and said the Government has "inserted tokenism" to "give the impression that the industry/" 1951 target="_blank">fishing industry is fairly involved in the consultation and voting process."
Screenshot from the video statement released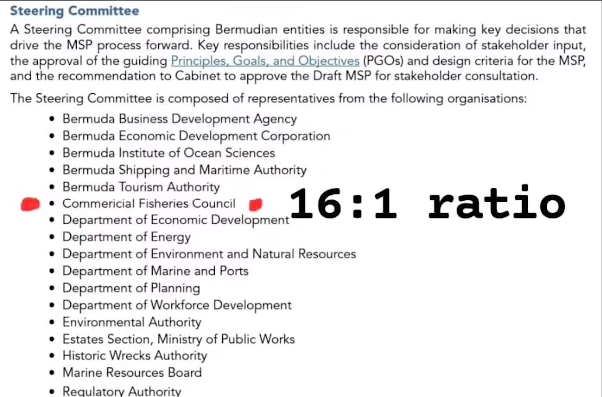 A statement from the organisation said, "It is important for the viewing public to clearly understand that despite the appearance of a 'to and fro' exchange of words and/or rebuttals, the licenced commercial/charter fishermen of Bermuda stand together as a unified industry who are capable and willing to engage in the critical dialogue that is robust, meaningful and in a place where mutual respect is foremost.
"This dialogue will bring solutions for an issue that we know is one of national significance and can reverse the potential for irreparably damaging a community involving major stakeholders.
Video comments from the Chairman of both Commercial Fisheries Council and the Fishermen's Association Bermuda Allan Bean
"There is far too much at stake from the perspective that not only does fishing provide income for a significant group within the wider Bermudian public, it is a major part of identity and heritage for those working in the industry who play a vital role in achieving local food security on the island.
"The stated mission of FAB at this present juncture is to ensure that equitable solutions are achieved that are mutually beneficial to all and pose no significant threat to all parties' interests whilst having a 'win-win-win' solution for the environment, fishermen and towards the common goal of long term sustainability of both.
"In closing, it must be recognised that for every individual standing at the FAB press conference, whilst collectively we are fishermen, we also represent individual business enterprises who must conform to all fisheries regulations, governmental tax requirements et al, which accounts for approximately 130± licence holders who constitute separate business entities on the island of Bermuda.
"To put this into perspective, each licence holder [not including their crew] represents a business, just the same as your grocer, restauranteur or doctor's office represents a business entity within itself."
In response, a Ministry of Home Affairs spokesperson said, "This Government has the utmost respect for the men and women of the Fishermen's Association of Bermuda who work hard every day to provide food to the people of Bermuda. We value their contribution and remain committed to working with the Association in pursuit of a plan that achieves the social, economic, and environmental impacts that matter to the people of Bermuda."

Read More About
Go to Source
Author: