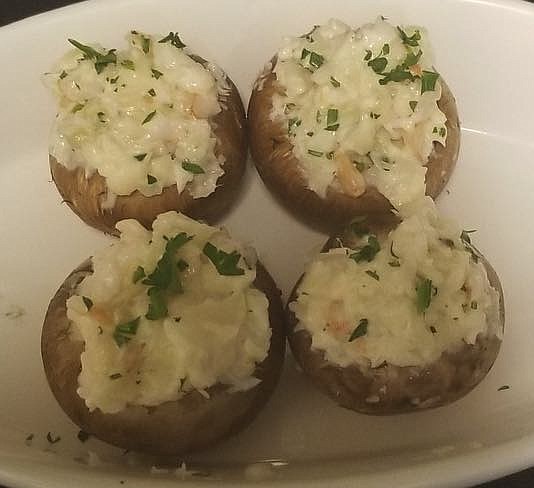 Seafood-stuffed mushrooms are very popular at Js' Old Town Bistro. This is an impressive appetizer to feed your guests this holiday season. This makes enough to feed a crowd!
Seafood Stuffed Mushrooms 
40 Mushrooms (we like to use creminis)
12-15 Wild Mexican shrimp
10- 12 Large scallops
½ pound blue crab (available in the canned fish section of the grocery store)
3 stalks celery
1/2 Red onion
2 tablespoons dried tarragon
2 tablespoons dried dill
2 eggs
2 cups mayonnaise
¼ cup white wine
Zest and juice of 1 lemon
2 tablespoons Worcestershire
Panko bread crumbs to bind
Fresh thyme and oregano to taste
3 shakes Tabasco
Salt and pepper to taste
Old Bay Seasoning
Preheat oven to 350 degrees.
Sauté the celery, onion, dried dill and tarragon until fragrant, 1-2 minutes. De-glaze the pan with white wine and lemon juice. Chill.
Poach the scallops and shrimp until cooked through (see note below) Chill. Place the scallops and shrimp in a food processor, pulse until well minced.
In a small mixing bowl combine the eggs, mayonnaise and Worcestershire sauce. Place the scallops, shrimp and blue crab in large mixing bowl. Add the herb mixture, fresh herbs, Tabasco, salt and pepper, a good sprinkle of Old Bay Seasoning and a sprinkle of the panko breadcrumbs, mix well. Fold in the egg mixture and blend it together.
Stuff mushrooms (we use cremini mushrooms at the restaurant) bake at 350 degrees for 12-15 minutes. Enjoy!
Note: To poach the shrimp and salmon bring 4 quarts of water to a boil. Remove from heat, add shrimp and scallops, cover for 4 minutes until the seafood is opaque.